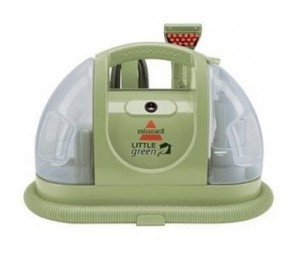 The Bissell Little Green Multi-Purpose Compact Earth-Friendly Deep Cleaner (Model 1400-7) looks cute. But don't let its size fool you.
According to the manufacturer, it has a great sprayer and strong suction that can effectively remove tough stains and spills. It also cleans and dries in one easy step.
This cleaner is made from post-consumer recycled plastic and comes with PVC-free tanks and hose.
This unit has a 2-3/4 amp motor that works great on practically all kinds of carpets. It has a 4-inch cleaning path and the liquid cleaning formulas that come with this cleaner are environment-friendly. They don't contain any optical brighteners, heavy metals, dyes, or phosphates.
This product is backed by a 1-year limited warranty.
Read on to learn more about this neat cleaning machine, and to see what owners of this carpet cleaner have to say.
Bissell Little Green Multi-Purpose Deep Cleaner Features
Flexible vacuum hose
15-foot power cord
Comes with tough-stain brush attachment
Hose, cleaning solution, and collection tanks are PVC-free
Parts are constructed from 100-percent post-consumer recycled plastic
Compact size
Powerful suction
The Reviews
The Bissell Little Green Multi-Purpose Compact Earth-Friendly Deep Cleaner 1400-7 has collected 232 customer reviews on Amazon.com. Most of the customer feedbacks were positive, praising the product's ease of use and convenient portability.
There were 56 Amazon users who gave this product a rating below 4 stars. They had the following complaints:
Sprays too much water – Customers are rather annoyed that this cleaner has a sprayer that sprays a path considerably wider than the vacuum head. Even if you just want to clean a small spot, you end up soaking and having to dry a wider area. Other users have offered an easy solution—go easy on the trigger and simply hold the sprayer closer to the carpet.
Suction not as strong as expected – Reviewers were also not very impressed with the kind of suction this cleaner provides. Drying can take quite a while. Other customers reacted to this by saying that, by applying a little more pressure, the cleaner can suck out more dirt and water.
Looking through positive reviews, here are some of the product's strong points according to satisfied customers:
Easy assembly – It works practically right out of the box. Very minimal assembly is required. You can have this unit up and running in just minutes.
Cleans well – Although some users think the suction on this model isn't that impressive, this product still does a fairly good job of removing dirt and stains.
Convenient size – Since it is compact, it's very easy to store practically anywhere. It's also kind on the back when you're moving it around, especially when carrying it up the stairs.
There have been mixed reviews for this product. Quite a number of customers were not too happy with what that they saw as design flaws. The two most common complaints were the wide sprayer and the seeming lack of powerful suction.
Fans of the product claim that these so-called design flaws were only minor inconveniences. Some even offered solutions for these problems. If we just look at the numbers, there are definitely more customers who were satisfied with the 1400-7's performance.