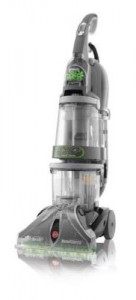 This is the Hoover SteamVac Dual V, a widepath carpet cleaner designed to provide equal suction across the entire width of it's cleaning path. It's designed to get as much water out of the carpet as possible, with even strokes of deep cleaning action. And it does a pretty good job of it, even if the descriptions sound grandiose.
This machine uses a 12 amp motor to apply hot water mixed with detergent to your carpet, scrub it clean, and suck the grimy water back into the disposal bin. That might sound a little straightforward, but that's basically how it works.
Hoover boasts the Dual V technology in this model. They say that it helps the cleaner to clean equally across the entire cleaning path. The people that own this carpet cleaner say that it cleans carpets very well, so the technology must not be all talk.
The brushes are patented SpinScrub brushes that are designed to loosen up the dirt in your carpet and scrub all sides of the carpet fiber. The brushes can also be removed, make it easy to clean them when needed. This carpet cleaner also heats the carpet during scrubbing, which gives added boost to the cleaning capabilities.
There are three speeds available: Spill mode, gentle scrub mode and power scrub mode. Each of these brings a different level of intensity to the cleaning job.
An 8 foot hose is included for situations where you need to reach. And there is also a SpinScrub attachment that you can use on stairs and upholstery.
Hoover SteamVac Dual V Carpet Cleaner Features & Specs
12 amp motor
Rotating brushes
8 foot hose
SpinScrub attachment for stairs/upholstery
Direct heat
3 speeds
Removable tool caddy
1 year warranty
About 35 pounds in weight
The Reviews
This is a very highly rated SteamVac and it has many happy owners. What are owners saying about this machine?
Big Water Tanks…
We found several comments about how you need to cover a lot of ground before the water tanks need attention. Some steam carpet cleaners in this price range don't get positive comments in this area, so this is a good thing. You'll spend less time filling water and dumping dirty water, and more time cleaning.
Many people also find that the tanks are very easy to remove for filling or cleaning. We couldn't really find any negative comments about this, so there must be a pretty similar reaction across the board.
Heavy But Not Too Heavy…
A few people comment that this is a very heavy machine, but that it's not too heavy. It seems to be about as big as it can get to provide good water tank volume, but not at the expense of making it too heavy to operate. It's heavy, but not too much so. Even with it's heavy stature, one commenter said that it was a lot easier to push this carpet cleaner than they thought it was going to be.
The Detergent…
What about the detergent? One reviewer states that the pet formula detergent cleans really well, and that it is not overpowering with scent. It is just right. Many people also like that the detergent reservoir is separate from the water tank, so that there is no pre-mixing needed, and they can also save extra detergent left over for future use because of this.
Assembly…
How about assembly? Steam cleaners do have parts that need to be put together before usage, so this can be an important topic. Everybody that talks about assembly says it's easy to put together, and one reviewer said that all he needed was a philips screwdriver. As with any steam cleaner, make sure that you connect everything properly and that any seals are aligned and connected properly, this will help to prevent leaking issues during initial use.
Speaking of leaking, reviewers comment that you shouldn't have any leaking problems as long as the reservoirs are properly in place.
Cleaning This Machine…
How about cleaning this machine? The reservoirs attach and detach easily so that part will be easy to clean. And buyers really like the fact that they can remove the brushes individually, saying that it makes it a lot easier to clean the important parts during maintenance.
How Well Does It Work?
What about the cleaning capabilities? Overall, buyer are very happy with how well it cleans. In fact, there are several comments from people about how embarrassed they were to find such nasty dirty water in the disposal tank after the first use! One buyer mentioned that he was able to get out some stains with this machine that he couldn't get out with OxyClean or Resolve.
Any Negatives?
One reviewer mentioned that he thought the machine was very loud, but this is pretty common for carpet cleaners. He said that he was able to get around the noise problem by wearing some noise canceling headphones while he cleans his carpets with this machine.
Other common negative comments are that this machine has a lot of plastic in it's construction, and that it doesn't clean as well as professional carpet cleaners. However, both of those complaints are offset when you consider the price. This machine is less than $200, it can't be compared to professional carpet cleaning machines that cost 3 times as much or more.
Read more reviews and opinions here
Overall A Good Machine…
Overall, this steam carpet cleaner has a large percentage of 4 and 5 star reviews, and it has a lot of fanatically happy owners. If you need a powerful home steam carpet cleaner for your house or apartment, you really can't go wrong here.