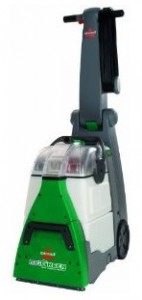 This one has a crazy name attached to it, boasting the fact that it's a big deal. Is it all that it's cracked up to be? It has a lot of happy owners, so that is a good start. Let's take a look at the details.
The Bissell Big Green Deep Cleaning Machine is a professional grade carpet cleaner, built by Bissell to compete with heavy duty carpet cleaners, the best of the best. It has a bold look, with its colors and thick plastic construction.
It also is a very capable carpet cleaner, offering large water tanks and a cleaning action that cleans while going both directions. The large water tanks increase efficiency by decreasing the amount of time you spend adding or emptying water. This can be a very big benefit for those with larger carpeted areas to clean in their homes. The fact that this machine cleans while going both directions also increases efficiency. Both of these features will ensure that your larger carpet cleaning jobs take less time than with lesser priced carpet cleaners.
The construction is very durable, made with very sturdy materials. It feels like something you might find in a professional janitors arsenal, yet it's designed well for home use.
The controls are simple, making for easy operation. You simply fill the water and detergent tanks, turn the machine on, and pull the trigger when you want to dispense detergent.
There is also a long hose with an attachment tool for upholstery/stairs. There are also many other accessories available for this machine, including different attachments with specialty purposes.
Bissell claims that this carpet cleaner will do a better cleaning job than leading rental carpet cleaners, and the reviews tend to suggest that they are probably correct.
Let's take a quick look at the specs and features.
Bissell Big Green Deep Cleaning Machine Specs & Features
Cleans during both forward and backwards passes
Large 1.75 gallon water tanks
Separate detergent tank
25 foot power cord
Long hose with upholstery/stairs attachment
10.5 inch cleaning path
The Reviews
Let's take a look at why people that buy this machine are so impressed. Yes, it's the most expensive steam carpet cleaner we review on this site, but it is worth the money.
No Assembly Required…

Many buyer are impressed right off the bat with the fact that this machine is ready to go right out of the box. There is literally no assembly required, like many other steam carpet cleaners. You simply put it to work, this is refreshing for many.
Can Tackle the Worst High Traffic Areas…
One buyer claims to have the high traffic area of all high traffic areas, with a beige colored carpet, nonetheless. They use the Big Green Machine to keep this area clean, with kids, dogs and mud, and are very impressed with how this machine handles the work. When they first used this machine on the high traffic area, they were up against several years of grime, and this machine cleaned right through it all, restoring their carpet to a much better looking condition.
Works on Rugs on Hardwood Floors…
One buyer was worried how this machine would work for cleaning large area rugs on a hardwood floor. They found that they were able to clean the rugs without moving them at all, since this steam carpet cleaner releases just enough moisture into the rugs during cleaning, not saturating them.
It's Heavy Duty…
Another person that bought this machine says that there is nothing that is not heavy duty about this machine. It's heavy, it cleans like a heavy duty machine, and it looks like a heavy duty machine. But that it this is worth it because it simply cleans the best out of any home machine they have used.
Large Water Tanks…
Other reviewers note that the large water tanks are also very refreshing compared to cheaper steam carpet cleaners. They prevent you from having to fill or empty them as often during use, so this would definitely be the type of feature that would draw a lot of positive comments. They also say though that as a result this can tend to be a heavy machine, so you should keep that in mind if you need something that is light and maneuverable.
Saved the Day During Washing Machine Accident…
Another person that bought this machine had a sort of non-standard account of how useful it could be. They used it to suck up all the water out of their carpets after a washing machine accident left them sopping wet. And this machine did a beautiful job and helped save the day.
Performs Like a Pro…
How does it perform? Everybody says it performs like they would expect it too. It cleans carpets with vigor and can handle the worst cleaning situations. There are also many comments about the long hose that has a large cleaning head on the attachment, which makes it very easy to use as well as very useful. One person says that this machine runs circles around his SteamVac, which also is considered a very good machine.
Read more reviews and opinions here
Overall Opinions…
The overall opinions on the Big Green Deep Cleaning Machine are that if you can afford to pay top dollar, you will get the best carpet steam cleaning experience available in a portable home machine. If you want to spend the money, you can't go wrong with this steam carpet cleaner.