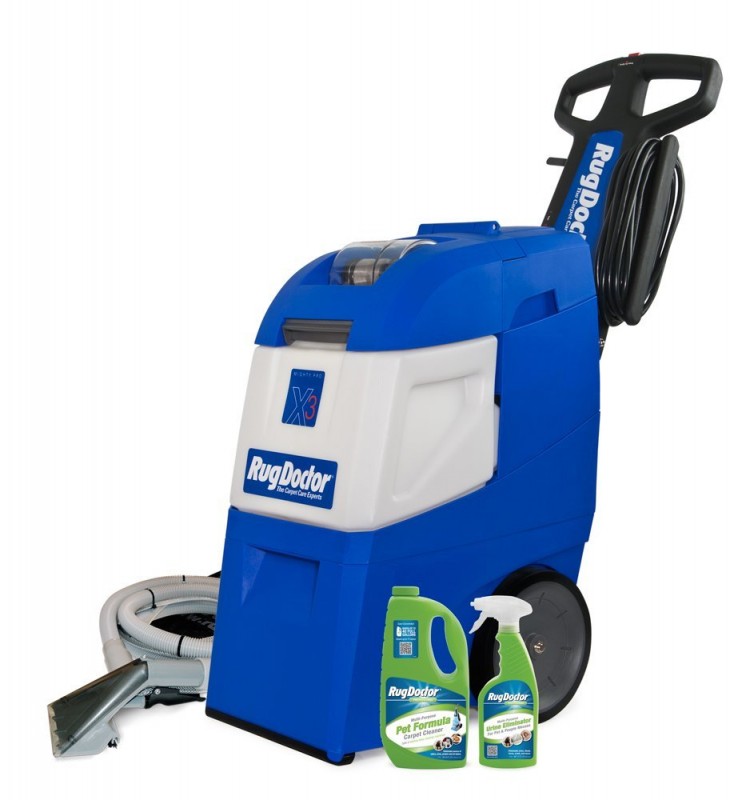 Rug Doctor is a house hold name in the rug cleaning business. Companies and homes have embraced the machines that this company has made it presence more widely known in 1998. Companies have monetized on these wonderful machines by making them readily available for rental washers in their establishments.
The Rug Doctor Mighty Pro X3 Pet Pack comes with the machine, upholstery and stair tool, the 40 ounce bottle of pet formula, and a 17 ounce urine eliminator trigger spray. If you own pets or breed animals, then you know the frustration in which every pet owner goes through when potty training or having a pet that consistently refuses to use the outside or a litter box for its toilet.
Features
Includes Mighty Pro X3 Machine Washer
Includes Upholstery/Stair Tool
Includes 40 ounce bottle of Pet Formula Carpet Cleaner
Includes 17 ounce Urine Eliminator Trigger Spray
Has Large tank for separation of clean and dirty water
Handheld tool for tight spaces
The Reviews
The reviews for the Rug Doctor Mighty Pro X3 Pet Pack are overwhelmingly positive. Of course, just as any product, there are just a few negative reviews. There were a few consumers that reported that the tank was putting out the correct amount of water, however, it was not sucking the same amount of water back into the dirty water tank. The water extraction did not measure out correctly. It left their carpet more saturated than they expected. This could be due to a manufacturer defect or the fact that the washer is not a dryer. Any water that is put out will naturally saturate the material. When doing this, the exact amount of water will then not in turn be sucked up. If this is due to a manufacturers defect, then the company has no qualms about replacing the machine without hassle.
The positive reviews go on and on about how wonderful the Rug Doctor Mighty Pro X3 Pet Pack is and how it exceeded their expectations. Some consumers are loyal Rug Doctor customers, others reported that this was the first machine that they purchased and are now, in fact, loyal consumers. The Rug Doctor Mighty Pro X3 Pet Pack has provided quality results in homes that have multiple pets. Consumers stated that the smelly carpet was saved from being ripped out and looks new with a fresh scent.
They were happy to report that the machine ultimately saved them money. It paid for itself within the first use. Parent love the machine because they feel safe knowing that their children are not crawling or playing on disgusting pet stained carpets. It is also said that since the machine is ready to use right out of the box, it saved them precious time that they did not have to spare. The Rug Doctor Mighty Pro X3 Pet Pack is highly recommended to anyone who needs a carpet washer and especially to those who have pets that live inside the home.