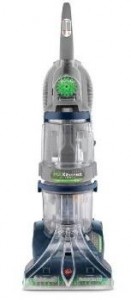 The Hoover MaxExtract All-Terrain Carpet Cleaner (Model F7452900) has a powerful 12 amp motor and a special Dual-V Technology that guarantees equal suction across the full width of the nozzle.
This cleaner works with 120 volts and comes with hard-floor accessories such as the Hoover-exclusive SpinScrub brushes, a squeegee, and soft wheels.
This is a very versatile machine that can clean carpets with ease, and it has a lot of happy owners to help back this statement up.
This unit also offers heated cleaning to remove tougher dirt, automatic detergent mixing, and auto rinse. The auto-rinse is a nice feature not seen on many other models.
Moving the cleaner around is easy with its generous 8-foot attachment hose, super long 30-foot power cord, and carry handle. To top it all off, the removable nozzle is washable. This product also comes with a 1-year warranty.
Read on to learn more about what this machine can do and what buyers have to say about this one.
Hoover MaxExtract All-Terrain Carpet Cleaner F7452900 Features
Dual-V Technology for equal suction across the nozzle
Patented SpinScrub brushes for more effective carpet cleaning
Automatic detergent mixing system that precisely mixes detergent and water
Heated cleaning
Auto Rinse leaves less detergent residue behind
Also comes with hard-floor squeegee and large, soft wheels
Includes SpinScrub hand tool for spot cleaning
The Reviews
To date, this product has gathered 352 customer reviews on Amazon.com. A large chunk of the reviews are positive, with most customers expressing a high level of satisfaction over its suction and cleaning power.
There were 82 Amazon users who gave this product a rating below 4 stars. Here are some of the issues they raised:
Parts not very durable – A number of customers complained that this machine is not very sturdy. Plastic parts, especially attachments, tend to break within a few months of use.
Quite loud – Some reviewers have also mentioned that this cleaner is louder than most other brands they have used.
Strong chemical odor – If you are sensitive to strong scents, make sure to open windows while using this product. Users have complained that the smell of the cleaning solution is quite strong and might give you headaches if you are not in a well-ventilated area.
On the other hand, there were plenty of positive reviews for this product. Here are some strong points mentioned by satisfied customers:
Easy assembly – Out of the box, this cleaner is pretty easy to set up. Just screw a few parts together and you're ready to give it a run in minutes.
Great cleaner – Happy customers report that this floor cleaner does a great job. It has a powerful motor, excellent suction, and it's loaded with convenient features.
Easy to use – the convenient design, generously-sized power cord, and the simple controls make your cleaning job so much easier.
Generally, there doesn't seem to be any major problems with this product. Aside from the loudness (which could be tolerated with the use of ear plugs if you really are sensitive to noise) and the seemingly flimsy plastic parts (which will probably not break if you handle the machine with care), the Hoover MaxExtract All-Terrain Carpet Cleaner F7452900 seems to be a really great buy.
Almost every reviewer agrees that the cleaning power of this unit is excellent. It's also relatively easy to clean and maintain. Overall, this carpet cleaner looks like it's a very good product.