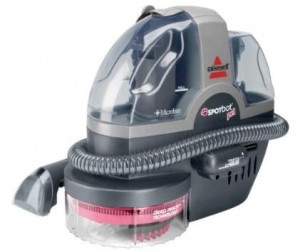 The Bissell Spotbot Pet Spot & Stain Cleaning Machine (Model 33N8A) has automatic cleaning cycles.
Using this machine is as easy as choosing your desired settings and leaving it to do its job while you relax or do something else!
It boasts of a unique Deep Reach Technology that cleans from the bottom up to effectively remove deep down dirt and stains.
This cleaner also has a Unique Spiral Brushing action. With over 400 cleaning revolutions, tough stains don't stand a chance.
An added bonus is the Microban Antimicrobial Product Protection. It prevents mold, mildew, and bacteria from accumulating on the machine.
Read on to learn more about this fantastic cleaning machine.
Bissell Spotbot Pet Handsfree Spot and Stain Cleaner Features
Hose and tool conveniently store on board
Deep Reach Technology for deep and thorough cleaning
Hands-free automatic cleaning cycles
16-foot power cord
Microban Antimicrobial Product Protection to discourage growth of bacteria on the machine
Carry handle for easy portability
Unique Spiral Brushing Action that completes over 400 cleaning revolutions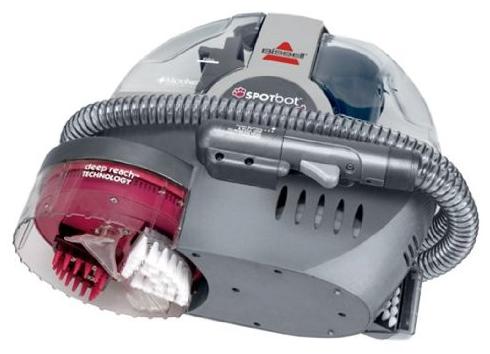 The Reviews
To date, there are 120 customer reviews for this product on Amazon.com. Majority of the reviews are positive, praising the product's efficient cleaning power and ease of use.
There were only 18 users who gave this cleaner a rating below 4 stars. Some of the issues they have with the product include the following:
Not so great for large spaces – Although it does a fairly good job of removing dirt and stains, it seems this unit can only clean a small area every few minutes. If you intend to use it in a large room, expect to wait quite a while for this cleaner to finish its job.
Uses up cleaning solution quickly – Users have observed that this cleaner uses up the cleaning solution pretty quickly—which can be pretty expensive. To save on cleaning solution, some reviewers suggest applying the cleaning solution directly to the stain and then letting the cleaner do the scrubbing.
Can leave circles on carpets – Some reviewers have also complained that the Spotbot leaves visible round marks (especially on light-colored carpets) that you need to fluff out.
A large chunk of reviews were positive. Here are some comments made by satisfied customers:
Easy set up – Out of the box, instructions for assembling the cleaner were clear and easy to follow. Once it was assembled, the SpotBot was also very easy to prepare and use.
Good cleaning action – A lot of customers were pleased with the results they got from using this cleaner.  Even old stains were removed and carpets noticeably looked a few shades lighter.
Solid construction – Reviewers were also pleased with the solid build of this product. All parts seem durable and made of top-notch materials.
There are significantly a lot more positive than negative reviews for this product. Most customers agree that it does a great job of removing dirt and stains, but based on some of the negative reviews, this cleaner may not be for everyone.
It seems to work best in small spaces. And since it tends to use up the cleaning solution quite quickly, this cleaner does not sound very practical for everyday use.