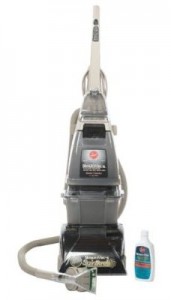 This is a highly rated Hoover SteamVac that has very good cleaning capabilities for a price under $200. It will give you the powerful cleaning capabilities you need to clean up your home or apartment without breaking your bank account.
Let's take a quick look at what it's like to use the Hoover SteamVac SpinScrub TurboPower carpet cleaner.
It will require some assembly before use, but it's easy to put together and you'll be up and running in no time. It has a 12 amp motor with plenty of power and 5 rotating SpinScrub brushes that will gently and thoroughly scrub your carpet during cleaning. The brushes detach easily for better access during cleaning.
Hot water is used in the machine along with the cleaning solution in one tank, and dirty water ends up in the other tank. The on/off switch is operated by your toes, and is easy to kick on or off. The machine applies the hot water and cleaning solution to the floor, scrubs, and sucks the solution and dirty water back up into the dirty water reservoir. This machine does a very good job of getting solution and moisture out of the carpets, for a quicker drying time.
A useful feature of this machine in the Clean Surge feature, that allows you to spray extra cleaning solution when tackling tougher spots on your carpets. This can come in handy for trying to clean up tough pet messes or stains from anything really.
This steam carpet cleaner has a 12 inch cleaning path, which achieves a nice, wide stroke during the cleaning process. There is also an 8 foot attachment hose that comes with a SpinScrub hand tool, nice for stairs or upholstery.
Let's take a quick look at the features and specifications of this carpet cleaner.
Hoover SteamVac SpinScrub TurboPower Carpet Cleaner Features & Specs
12 amp motor
8 foot attachment hose
SpinScrub attachment
Heating action during cleaning and drying
24 foot power cord
12 inch wide cleaning path
5 detachable SpinScrub brushes
Clean Surge feature for tough spots
The Reviews
This steam carpet cleaner has many 4 and 5 star reviews on Amazon.com, with very few bad reviews and no 1 star reviews. This indicates that overall, most buyers are very happy with this carpet cleaner. What are they saying?
Excellent Cleaning Capabilities…
As far as cleaning capabilities go, most owners are very impressed. This machine can clean carpets very well, and can tackle all kinds of messes and stains. Reviewers with light colored carpet are also very satisfied with the cleaning abilities of this machine.
One owner even says that after cleaning, the carpet just "feels" clean. They compare laying on the freshly cleaned carpet to laying on a clean towel.
Other buyers mention that this machine does it's best work when you go slow and pretreat the bad spots. This can be said for many of the more affordable steam carpet cleaners though, it's a common comment for many models in this price range and lower.
The Water Containers…
What about the water containers? The people that buy this machine find that they are easy to remove. The only common complaints seem to be that many people find they are doing a lot of refilling and emptying. This seems to be because this machine uses a lot of water and solution during the cleaning process. It does a nice job of scrubbing carpets and getting the moisture out when it's done, it's just that you will more than likely have to put up with some emptying/refilling if you have some larger cleaning jobs to do.
Great For People With Pets…
What about pets? People with animals find this to be a very useful machine when it comes to cleaning up after pets. Pet accidents are the worst thing to have to deal with in any home, and this machine does good job of scrubbing the carpets clean. If you have pets, you will find this to be a useful machine for spot cleaning or full cleaning.
Another commenter was proud that the SteamVac that he purchased was made in the USA. This machine is apparently made in Canton, Ohio, which is definitely in the US, so if this is important to you, there you go!
Might Be Tougher To Clean…
Any negative comments? Some owners mentioned that even though the SpinScrub brushes come off easily, some of the other parts of this machine are a little tough to clean. However, the people that maintain their machines well are most often reporting the best long term results.
Doesn't Heat Water…
Another thing that is mentioned as a negative by some buyers is that it doesn't heat your water, you need to put hot water in it. This is common though in steam carpet cleaners in this price range. The most common suggestion to counter this is to put very hot water in the machine, some recommend boiling water too, but that can be dangerous so remember to be safe no matter what you decide to do.
Read more reviews and opinions here
Overall Opinions…
The overall opinions indicate that this is a good machine for the money. It will clean your carpets very well for under $200. Just remember to be patient when cleaning it and to take care of it long term to get the most mileage out of it.