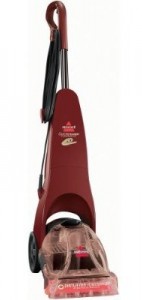 This lightweight machine is the Bissell Quicksteamer Powerbrush carpet cleaner, it offers steam cleaning in an affordable package. Even though it's lightweight it still has pretty good deep cleaning capabilities, and people that buy this steam carpet cleaner are often surprised at how well it can clean.
It only weighs 12 pounds and is powered by a 4 amp motor. It uses a brush to scrub the tough spots and get the dirt and grime away from your carpet. This isn't as powerful as some of the 12 amp steam carpet cleaners we have reviewed, but its affordability and light weight let it play a different role.
This will be a good steam carpet cleaner for anybody that needs the cleaning power of a deep cleaner but can't afford to spend more than $150. It's also a good choice for people that need a lightweight carpet cleaner to clean up after their pets and kids. It can be used for full rooms, and you will need to go very slow and pretreat the bad spots on the floor for best effectiveness.
This machine has two water containers. One is 1/2 gallon and intended for the clean water and cleaning solution, and the other for the dirty waste water. You will have to mix the water and the solution in the same tank in this carpet cleaner.
It is a good machine for somebody that is on a budget, for people that do regular carpet maintenance, and for people with pets or kids that need quick cleanup capabilities. If you need to do more heavy duty carpet cleaning, this machine will require some patience. But if you keep up on your carpet cleaning, this could be a good, affordable pick.
Bissell Quicksteamer Powerbrush Carpet Cleaner Specs & Features
4 amp motor
Dual tanks, one for clean water and one for dirty water
Only 12 pounds in weight, very maneuverable
20 foot power cord
8 1/2 inch clearing path
Removable nozzle
1 year warranty
The Reviews
There are a couple overlying messages that can be found in all of the reviews of this carpet cleaner. First of all, buyers that understand that this is designed as a lightweight and affordable cleaner are the ones that are the most happy. People that think this will do the same job as a commercial grade carpet cleaner are disappointed.
The reviewers that need a steam carpet cleaner to clean up after animals or to do cleaning in smaller spaces or apartments find this carpet cleaner to be quite useful. Some say it feels smaller than a typical vacuum, but gives them the power of heat/water during the cleaning process to get an extra good scrub.
The Best Techniques for The Best Results…
Those that have the best success say they rely on two techniques when using this machine: Go slow and pre-treat the bad spots.
They get the best results because going slow allows this machine to scrub thoroughly and to suck the water out of the carpet thoroughly. This results in a dryer carpet when you are done. Pre-treating the bad spots gives this machine the ability to work in a mop-up role, and it can scrub the solution after it's had some time to sit and work during pre-treatment.
Budget Alternative to Professional Cleaning…
One buyer find that this carpet cleaner works great for them in their home as an alternative to having professional carpet cleaning done, to save money since they are on a tight budget. They use it to clean one room per weekend with great results, and they have pets. They mention that it also works really well to mix some cleaning solution in a bottle and spray it on the tough sports on the carpet before cleaning with this machine for better results.
Might Not Be Best for Very Soiled Carpets…
Another reviewer mentioned that they feel this would not be a very good pick for a person that very dirty carpets to deal with. They say it is a good machine for those who clean their carpets regularly and don't let them get trashed. This makes sense since it's a lightweight machine.
Great for Pet Cleanup…
Do you have pets? One reviewer says that this machine works great to clean up after his mess-making puppy. Another says they are able to get both the stains and the odor out of the carpet and their dog doesn't return to try to mark the spot again. Another reviewer says that upon cleaning their carpets with this machine they were able to remove the stains from their two cats right away.
One kind of gross account that we read was from somebody who had to deal with fleas. They said that this machine dealt with the fleas and the larva in the carpet really well, helping to clean it all up and get it out. That is kind of gross, but it says good things about this machine.
Easy Assembly…
How about assembly? There are no complaints about assembly that we could find, everybody seems to find it easy to assemble. One person says that the first time they took it out of the box and used it that they had it assembled and were done using it within and hour.
Read more reviews and opinions here
Overall Opinions…
The overall opinions of this machine are pretty good if you take into consideration that this is designed as a light and affordable carpet cleaner. It's not going to clean the carpets with the same vigor as a more expensive carpet cleaner, but it will do a good job if you are patient with it and take the time to pre-treat bad spots. You will be happy with this carpet cleaner if you are on a budget.